Bruce was born in Rochester New York, and has enjoyed the city that never sleeps most of his life. His first job was at the Plaza Hotel. NYC remains a place we like to visit and revisit. As a matter of fact, while I am working on this page, I am sitting on the 24th floor of the Marriott Hotel near Times Square, looking out on the Hudson bay.
Bruce has some great stories about taking the Subways in the 80's. It's a great place to people watch and hear live music.
NYC CLUBS & EATS
Bruce and the kids are over the moon when it comes to Italian food. I like it, but in general, I need lots of variety for my ever changing attention span and wild sense of creativity when it comes to food. Because of their dedication to pasta, you will find Italian usually listed on most cities we visit.
When it comes to eating, we like to take a bite out of the Big Apple. Some of our favorite restaurants include:
Hourglass Tavern
373 W 46th. (212) 265-2060
Last night, our New York friend Jasper took us to this cozy, hip three story bar and restaurant. It's a hidden, local gem and a great place to have a glass of wine. The food good and reasonably priced.
Pegu Club (Soho)
77 W. Houston St., 2nd fl, New York, NY 10012. 212-473-7348
We LOVE Soho. Right by some great art galleries is the Pegu Club. This high-end bar's entrance is subtle. You will be walking up a flight of stairs to reach your destination. Once you get inside, Pegu is a very sexy cocktail lounge. They are known for 'the art of a well-made drink'. All cocktails are made with fresh, exotic juices and ingredients.
Consider the The Old Cuban, a champagne mojito or the Champagne Apricato, which is topped with a purple orchid. Gin-Gin Mule is their spiced home-made beer. Order some coconut shrimp for delicious treat. A bit pricey, but we think it's worth it!
Bruce has been to this crazy ice bar in NYC (1335 Avenue of the Americas). Enter at your own risk: Minus 5 Ice Bar.
NYC EATS
99 cent Express Pizza (Times Square) - Bruce's favorite!!! It's on the northwest corner of 43rd and 8th. 301 W. 43rd St.
Lombardi's Pizza
It is located in Little Italy. (We went there last night!!!! 3/26/14) 32 Spring St, (between Mulberry St & Mott St) - http://www.firstpizza.com/.
Lombardi's pizza is outstanding. We have to have the meatball pizza with roasted red peppers!!
De Gennaro
Another Little Italy, yummy spot is on the corner of (2210) Mullberry and Hester. It is our sweet friends, the Franks, favorite romantic spot.
Amarone
One of Bruce's favorites. It is a cozy, indoor/outdoor trattoria on the edge of the theater district on 9th Avenue between 47th and 48th that offers delicious, comforting Italian cuisine. Josh loves their homemade pastas.
Bistecca Fiorentina
317 W 46th St. (212) 258-3232
This lovely, intimate restaurant in the theater district is high on romance, food quality, and service. We ordered Scaloppine Di Vitello Con Funghi E Prosciutto - thin veal medallions with mushrooms and prosciutto in a wine sauce. Truly memorable!
Tao
http://taorestaurant.com.
Caroline (our daughter) and I stumbled accidentally on to this gem one day when we were craving edamame. We both claim its one of the best meals we have ever had. Bruce has taken clients here and loves it as well.
Expect over the top, high design Eastern decor.
Usually you need a reservation. Oh, and bring your wallet.
 
Blue Fin Seafood and Sushi Restaurant W Hotel Times Square, 1567 Broadway at 47th - http://www.bluefinnyc.com/.
I (Tracy) am a lover of sushi. Bruce, not so much. But he is ever so kind to accommodate me. Blue Fin is right in the heart of Times Square restaurant scene. You will observe dramatic design elements by the famous designer Yabu Pushelburg. Check out the glass-enclosed bar at street level, which makes it a terrific spot to people-watch in Times Square. The wine list is extensive, and the food is very high in quality. Try the delicious Times Square maki roll made up of fresh crab, spicy hamachi, mango, apple, avocado, yuzu miso sauce. YUM!
Haru Sushi Restaurant: As I type this…..I have reservations at Haru tonight, I'm in NYC and meeting a girlfriend there at 7:30. It is a festive atmosphere with very fresh food. You need reservations. It is steps away from the Westin Hotel, where we usually stay.
Peep
177 Prince St, (Btwn Thompson & Sullivan St) (212) 254-7337
Peep is a Soho Tai Restaurant. The atmosphere is fun and hip. Check out the swanky bathrooms. They are mirrored from the restaurant side. From within the bathroom, you can see into the restaurant, but they can't see you. Thus, the name Peep.
Toloache 251 West 50th. Phone: (212) 5811818
Pronounced (toh/lo/AH/tchay). Upscale contemporary Mexican cuisine. Reservations needed! This place is lovely and the food is incredible. I enjoyed a perfect glass of Sauvignon Blanc, and my man had a fantastic mango margarita. We started with sweet plantains and ordered Costilla & Tuetano tacos, which consisted of beef, short ribs, tai basil, roasted onion and chilies toreados. For our main course to share we chose Carne Asada, grilled skirt steak, potato gratin (Bruce is still dreaming about it). It included a cheese enchilada drizzled with mole sauce. The meal concluded with warm chocolate cake and a side of mango sorbet. YUM.
Cafe Habana
http://www.cafehabana.com
I first heard about this place on the food channel. Then, my buddy, Elizabeth, recommended it. It's located at 17 Prince Street at Elizabeth Street. The food is Caribbean and Latin American. It's nothing fancy. It's small. But for foodies, the taste often surpasses design. Cafe Habana is known for their mexican-style grilled corn. O.K., now picture it: topped with chili powder, melted cheese, and lime. Who wouldn't like marinated skirt steak with rice and beans? Sip your mojito as the flavors bring a little excitement to your mouth!
River Cafe
http://www.rivercafe.com
My mom first brought me to the River Café when I was in middle school. Then, again a couple of years ago for a girl's trip. It is a costly venue for sure, but Mom had me covered. Located beneath the Brooklyn Bridge with city light views of lower Manhattan, the River Café is too romantic to simply experience with your mom. The view is unmatchable. The service is impeccable. Check this out from their website: "After 5:00 p.m. each day, jackets are required for gentlemen in the Main Dining Room and the Bar. Ties and collared shirts are always preferred." Also here is some history:
"The River Café opened in June of 1977 in a forgotten and abandoned neighborhood by the Brooklyn docks. It took twelve years of beseeching the City before approval was granted in 1974. The City was teetering on the edge of bankruptcy. Some of New York's most important business executives and government officials advised Mr. O'Keeffe that building on the Brooklyn waterfront was extremely risky, exposed to peril, and destined to fail. Every bank in New York turned him down. Despite all this, the restaurant opened and was an immediate success. The River Café's success became the catalyst for the redevelopment of the Brooklyn waterfront. It is consistently voted "Most Romantic Restaurant in America."
Ellen's Stardust Diner 1650 Broadway, 51 Street - http://www.ellensstardustdiner.com/.
This is a touristy move for sure, but we just can't resist the Stardust Diner. It is located in the Theater District with its retro 1950s decor along with its talented Broadway-bound SINGING waitstaff that entertains throughout the night. Don't forget to order a milkshake!!
Serendipity 3 225 East 60th Street, (between 2nd and 3rd Avenues)
This whimsical East Side boutique is a sweets/coffee/burger shop that has been around since 1954. Its decor reflects a Mad Hatter's tea party. It has been rumored that before he was famous, Andy Warhol claimed it as his favorite sweet spot, and paid his bill in drawings.
Picture yourself blowing bubbles through an ice-cream-soda straw, and you've got the picture. We suggest the Cheddar burger with fries, and a must is the famous FROZEN hot chocolate.
Baby Cakes 248 Broome Street (Btwn Orchard & Ludlow).
Need something relatively healthy and sweet? Look no more! Here you will find all-natural, organic alternatives to your favorite yummy treats!
Baked By Melissa http://www.bakedbymelissa.com/Checkout/Location.aspx.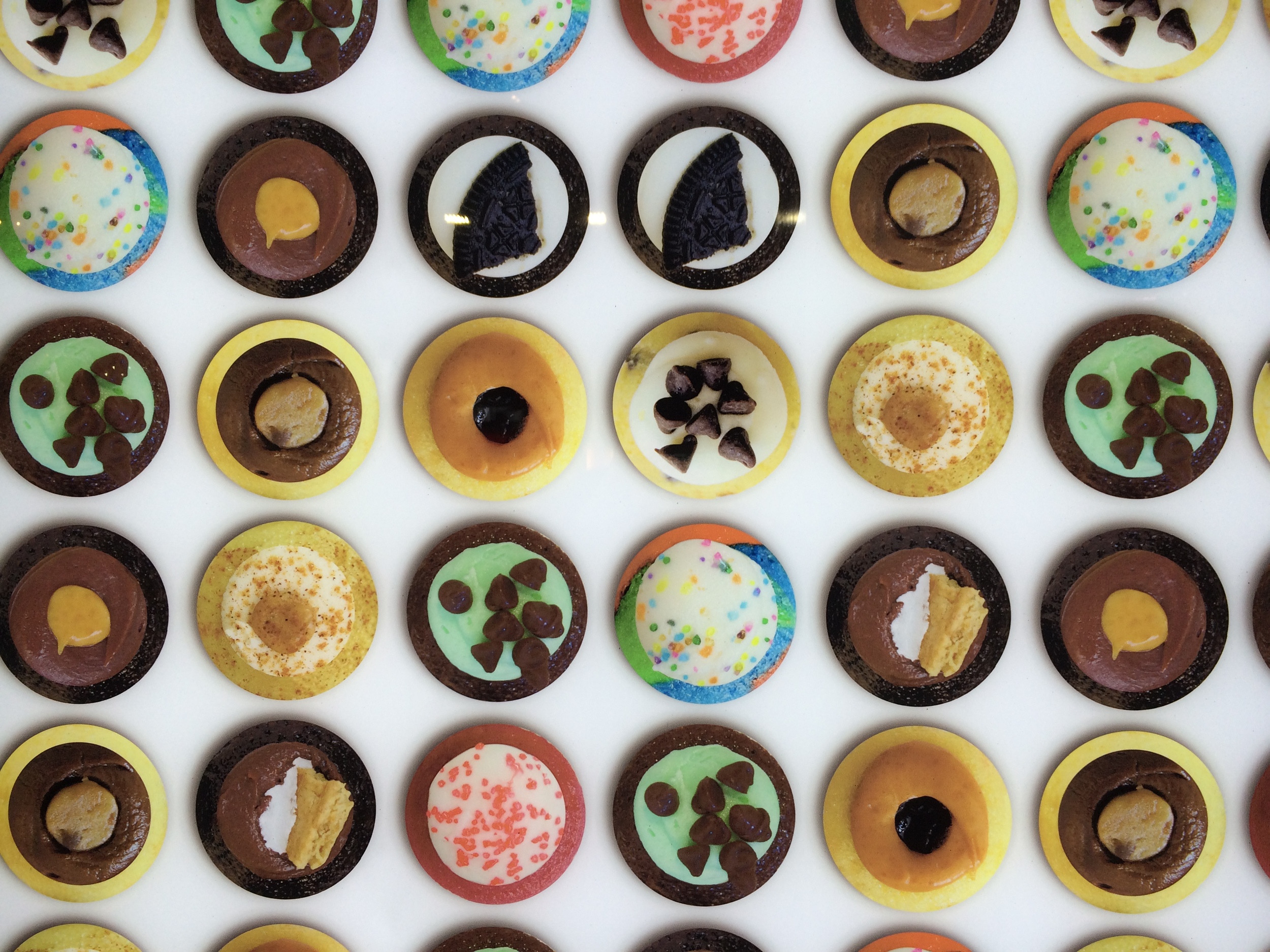 BROADWAY
We also love going to Broadway shows. Some of the recent ones that we've really enjoyed include:
Curious Dog in the Night (Amazing!), A Gentleman's guide to Love & Murder, Pippin (Tracy's fav), Once (Bruce's fav), Newsies, Jersey Boys, Rock of Ages, Peter and the Star Catcher, Wicked, Avenue Q, & Waiting for Godot
MUSEUMS
You probably know that NYC is full of fantastic museums. The MET is a classic choice that we adore.
However, our favorite museum is a little-known gem called the Cloisters Museum and Gardens, located by the Hudson River in Fort Tryon Park in northern Manhattan.
Tracy first visited the Cloisters as a young girl. It so profoundly touched her that you can see traces of its influence in the way she has designed our home. It is a branch of The Metropolitan Museum of Art devoted to the art and architecture of medieval Europe. Most museums have their works of art held in a relatively sterile environment. However, the Cloisters was assembled from antique architectural elements, that largely date from the 12th through the 15th century. This museum is a real treasure.
Cloisters Museum and Gardens
www.metmuseum.org/about-the-museum/history-of-the-museum/the-cloisters-museum-and-gardens
We just visited for the first time the Morgan House Museum. It was fabulous!!! It's located on 225 Madison Ave.
SHOPPING
We love to shop for great discounts at Century 21 Department Stores. Take your pick of 7 locations!
Tracy also always makes sure that we head down to the design district. One of her favorite stores is:
ABC's Home and Carpet 888 Broadway - www.abchome.com.
It is a great place to explore unique, as well as cutting-edge design. Their lighting is one of a kind!
Since I'm in New York right now as I am typing this, I am going tomorrow to check out Fish's Eddy on Broadway for kitchenware because my design client, Elizabeth, says its one of her favorites! www.fishseddy.com
Soho is my FAVORITE place to go in New York. It is full of wonderful random places to hunt for home design, art, jewelry, gourmet chocolate, great food, and cool clothes.
Here are a few of our favorite spots:
Atelier Minyon - 155 Spring Street - Super cool, funky jewelry studio. I like to go in there to look at the beautiful lanterns from Morocco.
Rachel Ashwell - 83 Wooster Street -Design lovers, this is a must. Super shabby, chic design store. British born, LA-based interior decorator Rachel Ashwell. She even owns a bed-and-breakfast in Round Top, Texas: http://www.theprairiebyrachelashwell.com.
Vosgas Chocolate & Coffee Shop is our happy place!
.........................
One Christmas, we even joined one of our favorite families in New York to celebrate. And what do you know? Epic snow storm. We had a VERY white Christmas!!!